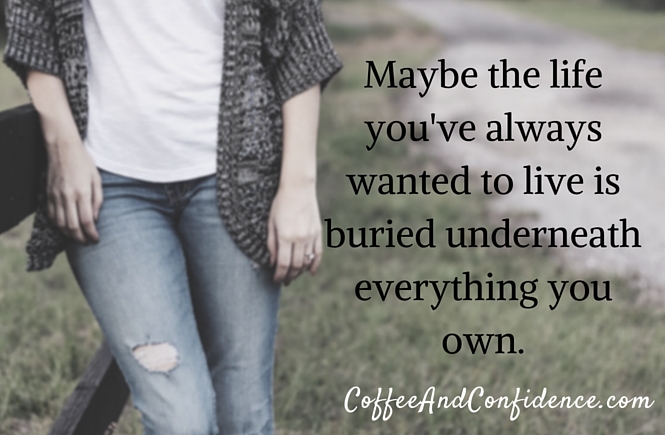 When I realized that I didn't have to have some life-changing goal to propel me into the new year, I decided I would just go about doing little things that were in my best interest.  Things like spring cleaning, decluttering, reading more, building better relationships, and contributing to others.  These activities would bring more space and calm to my life.
Something simple
One of the first things I did to begin the process of making space in my life was to go through my closet.  I think, comparatively speaking, I had fewer clothes than most women, however, I still had more than I had the space for.  I also had many items that I didn't wear regularly, if at all. It seemed like the easiest place to start clearing excess.
Often, when people start exploring minimalism they immediately go to the things that will be the hardest to let go.  Things like books, photographs, or heirlooms.  That's a great way to stop before you ever get started.
Clothing, however, is simple.  Either you wear a garment or you don't.  Either they fit of they don't.  Either you like it or you don't.  Sentimentality rarely shows up in your wardrobe.  At least in the majority of it. And we know that, on average, we wear only 20-30% of the garments we own.  The rest is just baggage.
The 333 Challenge
I had come across this thing called the 333 Challenge.  It's a challenge to pair down your wardrobe to 33 items for 3 months.  You donate or box up the rest.  Even if you don't get rid of them, you box it up and store it away.  After three months you pull out the items you missed and donate the rest.
33 is an arbitrary number, however, it's small enough to cause you to be very selective about what you choose to keep in your wardrobe.  It forces you to pull out a capsule wardrobe.  A few multi-functional garments that you can wear over and over at a variety of events and in many kinds of weather.
Items like undergarments, loungewear, and workout clothes aren't counted.  Although, you can include them in the count if you decide you want the extra challenge.
Soon after starting the challenge, I realized that I wasn't even wearing all the clothes I had kept out.  So I continued to weed out during the challenge.  I was also very disciplined about not buying anything new unless it was to replace something that had worn out.  (How often do we actually wear out an article of clothing?)
At the end of three months, I pulled out three or four items to add back into my wardrobe and donated several garments I had originally thought I'd miss for sure.
The benefits
Number one was having so much space!  My hanging clothes had plenty of air flow in my closet.  No more crammed, wrinkled clothes.  My drawers were mostly empty.
The second benefit was picking out an outfit was super easy and stress free.  I didn't have to worry about what matched or how I looked.  The clothes I'd kept in my wardrobe were all my favorites.  I knew they fit well, were comfortable, and flattering.
The third benefit of clearing my wardrobe was having less laundry.  A lot less.  Many of my sweaters and skirts I was able to wear several times before they needed to be laundered.  Folding and putting away took no time at all.
Not only did I get more space but I got my time back and had less stress. Those are some highly valuable advantages to living with less. It also got the ball rolling on doing some more clearing in other areas of my home and life.
I learned that clearing and letting go doesn't have to be painful.  It can be freeing, spacious, and refreshing.  The alternative of being cramped, stuck, and stressed is not an option.  I want so much more from life.  How about you?