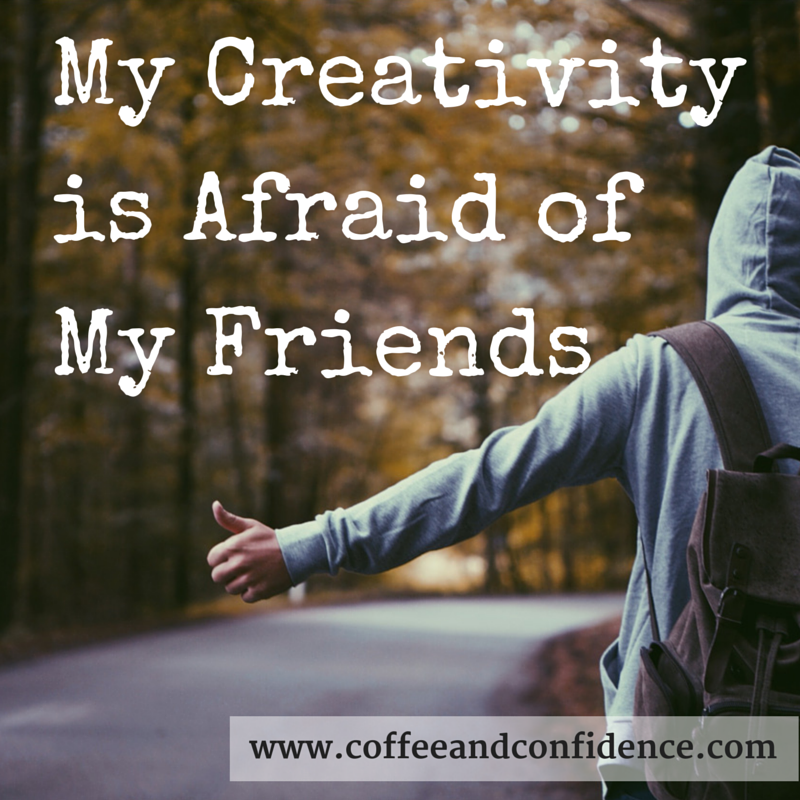 Sometimes I think I'm cursed with talent.  Maybe it's a blessing.  But it often produces as much frustration as it does joy.  It's this creative part built into me that I love at times.  But a lot of the time I'm afraid of it.
I'm a creative.  I have dozens of ideas running through my head at any given time.  It's a driving force that I can't seem to escape.  Often, I have to do something to get those ideas out or it drives me crazy.  If it's crafting, decorating, designing, or writing, it's a creative outlet.  It makes me feel normal again to be able to make something interesting or beautiful with the things that are swirling around in my mind.  And when I've created something and completed it, I want to share it.  But then a new frustration crops up.  Fear.
Fear kills more creativity than failure.
I'm finally admitting out loud that I'm afraid of my friends.  I'm afraid they won't understand why I create.  That they'll be critical or question the merit of it.  Maybe they won't care.  Which might even be worse.  Does it really matter?  I can't decide.
The things I create are part of me.  They are birthed from my mind and delivered through my hands.  Time, energy and a huge amount of myself is invested in the things I create.  I love them.  And I want to protect them and guard them against criticism.  Yet I want to share them because they mean so much to me.
It may or may not matter what someone else's opinion is, but you are more vulnerable to the voices of the people you love. The people closest to us are the one's that we often fear the most because they have the most influence in our lives.  Their opinions have more meaning than that of strangers.
Is this a rational fear?  Good question.  I'm still struggling with it.  My head says that it's not.  That no one's opinion should be a deterrent from reaching for a dream.  That my friends are great and will be supportive.
Fear says to keep the things that are precious to me inside, hidden and safe.  It's not worth the pain.
But my heart says that I'll never be truly fulfilled until I can share what I love with the world. That I can't help people if I never share what I have.
Is my calling bigger than my fear?  Do I have what it takes to overstep the boundaries of fear?  These walls can't hold me back forever.
If you believe strongly in your purpose to create, don't let fear stand in the way.  There is a community of creatives that are walking the same road.  There are probably several in your own personal circle that you may not even be aware of.
Reach out to people who share some of the same interests.  If you're a writer, seek out writers.  If you're a sculptor, seek out other sculptors.  You can create a forum for people to share their interests in an online community or a local mastermind group.
Don't hold back what you have.  You might be the inspiration that someone else needs.
The greatest thing to fear is fear itself.
Do you wrestle with fear like I do?  Are you keeping something safely hidden because it's vulnerable to criticism?  How did you get through it or are you still struggling like me?  You can share your comments here.