Love Does
Discover a Secretly Incredible Life in an Ordinary World
Author – Bob Goff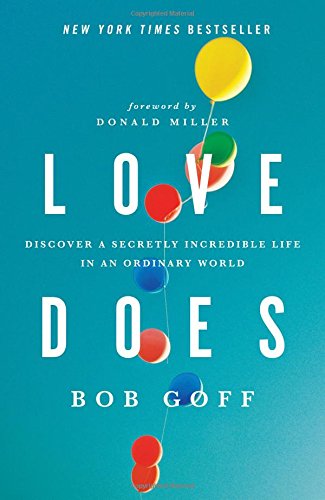 Publisher – Thomas Nelson
Genre – Religion/Spirituality/General
224 pages
ISBN – 978-1-4002-0375-8
Being an INTJ, I am skeptical of religious books even though I'm a Christian.  I'm a thinker and shun books that rely on emotional frenzy for engagement.  I'm nearly allergic to anything that has the word love in it.  Love story, love song, love fest, etc…  I don't like all that mushy stuff.  To me, love isn't about heart flutters and emotion.  Instead, it's about appreciating someone enough to put their needs ahead of my own and love them in tangible ways.
I first heard about Love Does from Glennon Doyle Melton, author of Carry On, Warrior and founder of Momastery.com, while in an interview with Michael Hyatt.  Glennon was talking about loving people in actionable ways and referred to Bob Goff and his book, Love Does, as her inspiration to help people.  Glennon's credibility and fervency in helping people led me to put this book on my reading list.
When Love Does arrived in the mail, it was accompanied by two other highly recommended books I had ordered at the same time.  I asked my friends in a Facebook group which book to read first.  There was an overwhelming response for Love Does.
Love Does is a series of short stories written about Bob Goff's life.  Each one begins with a statement of a personal or spiritual shift in perspective as an introduction to his story.  I call them Goffisms.  For example, the first chapter starts with, "I used to want to fix people, but now I just want to be with them."
The stories are not more than 10 pages long and always have a moral tale of going beyond the normal and typical to discover the incredible things we're all capable of doing.  There is 31 chapters, plus an introduction and an epilogue.  I chose to read it with the intention of reading at least one chapter per day to be done in a month.  It was harder to put down than I originally thought.
This book went far beyond my expectations.  Bob has a light and friendly tone despite being a lawyer by profession.  He tells the truth about himself without holding back his failures and misdeeds.  For example, he told the story of wanting to drop out of high school, how he and his wife sneaked into his buddy's hotel room and racked up a large room service bill just for fun, how he became the Honorary Consul for Uganda to the United States by accident, how he was fired from his first prestigious job, and how he occupied the bench outside of the dean's office for seven days until he was finally allowed into the law school from which he was rejected.
Each story is full of whimsy, fun, and faith.  But most of all, they're full of love.  Bob's belief that love does is shared in such an engaging way that he made me think I could also do incredible, meaningful things for others.
I would absolutely recommend the book, Love Does.  It is far from the typical Christian tale of showing God's love and following the example of Christ.   It will have you thinking how to show God's word rather than just study it.  As the author leads you through his thought processes, you'll find yourself creating your own Goffisms, experiencing paradigm shifts in your beliefs, and changing your view of what real love and Christian faith look like.
100% of the proceeds from the book Love Does goes to Restore International, an organization founded by Bob Goff that gives a voice, education and legal representation to thousands of children in several countries, who have had their human rights violated in numerous ways.  Just by purchasing the book, you are immediately involved in doing what love does.  I hope you pick this book up soon, share it, and commit to showing love in actionable ways.
Enjoy!
Have you read Love Does by Bob Goff? What's your opinion of the book?  Comment here.