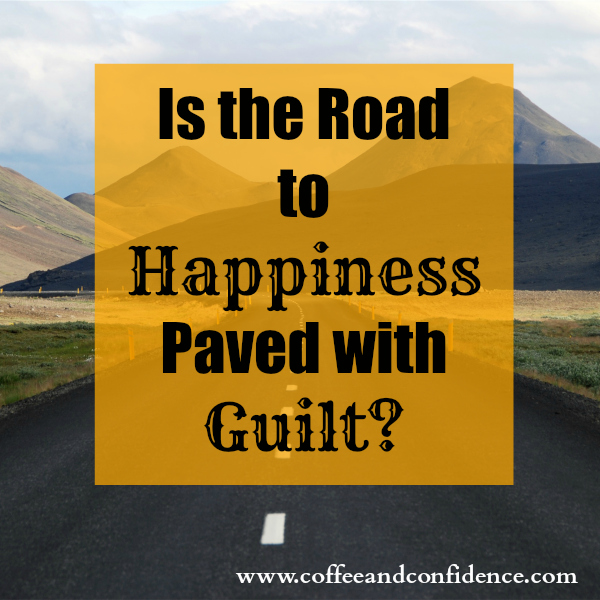 Confession:  I can't help but feel a twinge of guilt when I read quotes about doing more of what makes me happy.
Is it selfish to spend my time and energy on what makes me happy?
Is it really okay to do that??
Shouldn't I have a more noble cause than focusing on what makes me happy?
Feeling guilty for being happy negates your happiness.  How can one be happy and feel guilt at the same time?  You can't.
Where do we get this idea that doing what makes us happy is somehow wrong?  Who said that we had to be martyrs and sacrifice our own happiness for the sake of others?  And who really expects you to do that?
Right to Pursue
Wanting to be happy is not selfish.  It is, in fact, an inalienable right to pursue happiness.  Our forefathers knew that every person needed to live a life of liberty and be free to work for what makes them happy.  They didn't say we had the right to be happy, but simply a right to pursue it.  Remember, happiness is not a destination.  It is the journey.
Life is about give and take.  Ebb and flow.  To do only what benefits us at the detriment of our family or those around us is selfish.  However, chasing a dream, working toward a goal, or pursuing a passion is not a selfish act.
Boundaries – Self-interest vs. Selfish//Mentor vs. Martyr
We get mixed up in where our boundaries lie.  Some of us more than others.  Some to an extreme.
The Narcissist has boundaries that only encompass himself.  No others are considered in his decision making.
The Empath regards the feelings of others much higher than his own and subsequently gives all weight in decision making to others.  Deserving or not.
Neither of these are a healthy way of life.  You either become completely self-centered or develop a martyr complex.
The ideal is somewhere in between.  A place where you have consideration for those within your circle of influence while having a healthy level of self-interest.
Self-interest is different than selfishness.  It is taking full advantage of the opportunities that come your way without allowing others to take advantage of you.  It's also being a mentor vs. a martyr.  Helping others without losing yourself in the process.
The Fine Line – Purpose
Where exactly is that fine line between self-interest and selfishness?  Where is that place where you can be happy without feeling guilt?
It's different for each person and I can't begin to guess where it is for you.  But I suspect that it sits along the line of purpose.
Every person has God-given talents that were afforded to us to contribute to the world, our community, the greater good.  These talents and passions are rooted deep in our souls and are attached directly to our values.  They are the vehicle by which we share meaning with the world and ultimately bring purpose and happiness to our lives.  When we can work with our talents, it doesn't feel like work.
Passion x Purpose = Happiness
So, ask yourself, What is the one thing that I love to do whether or not I get paid?
Then ask, How can I use this to share meaning with my community?
When you can find this driving force in your life, you will have found your purpose.  Your passion.  Your element.  The zone.
In this place, there are no Mondays.  No day jobs.  No TGIF.  It simply becomes a daily pursuit of happiness.  Your purpose and passion may or may not pay the bills.  But that's no reason to ignore the reason you're here.  Work to pay your bills.  Then pursue happiness.  While you work to be happy, you'll also be contributing to a cause of sharing meaning and value with those around you. You'll love every minute of it.  And the rest of us will be better for it.
What's your passion and purpose?  How do you share meaning and values with those around you.  Share in the comments.