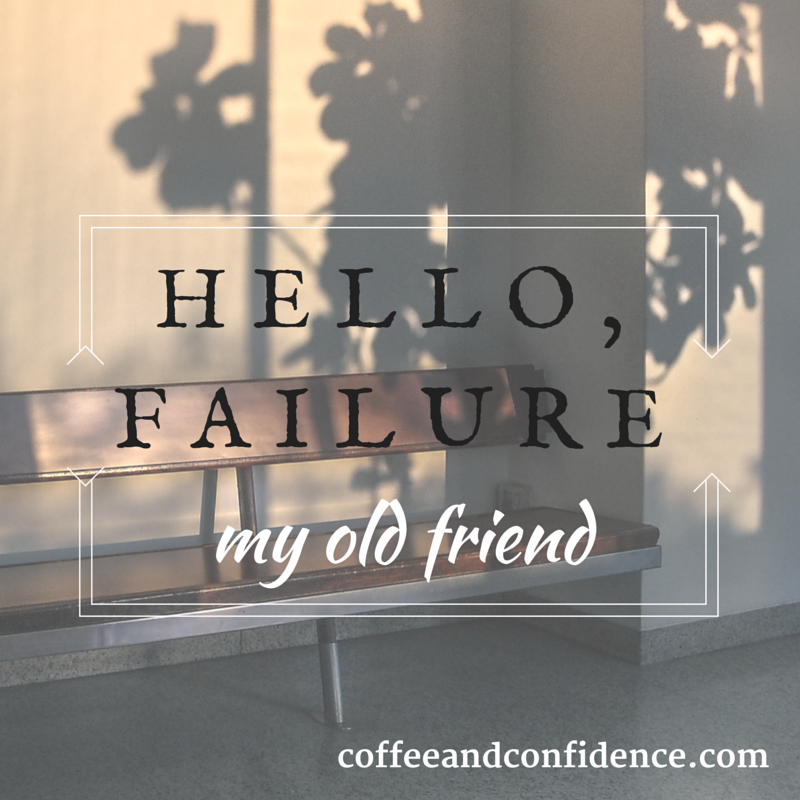 We all want to succeed.  To hit the goals we've set.  We want our creative hard work to be recognized.  And we want someone to be impressed, helped, or inspired by what we've created.  But, we're afraid of failure…. so we say.
The truth is, we're comfortable with failure.  Too comfortable.  There is something about failure that feels okay.  It's like old tennis shoes that you keep going back to even though you've got the newest and best in your closet.  Or that old friend you keep around for some reason.  But you can't remember why.
But, success?  That's scary.
Success is like a dream.  Something out there that we can only imagine what it will feel like.  It's unknown.  While failure is something we deal with regularly.  We know what failure is like.  We've all been there.  Disappointment is one appointment that we all make and keep.  It's old hat.
They say life begins at the end of your comfort zone.  
The comfort zone is actually quite uncomfortable, though.  It's too small.  You're always bouncing off the boundaries of your comfort zone.  You want to leave it.  You know you should.  The only chance you have of real success is on the other side of your comfort zone.
Yet, for some reason, we want our journey out of the comfort zone to feel good.  Let me tell you… It doesn't.  It feels a lot like failure.  That old friend that we've met so many times.  So, instead of fighting through to the end, to success, we embrace failure as if we were always meant to be together.
One way to combat our strange love hate relationship with failure is to get acquainted with success.  You experience little successes every day.  Did you finish a book? Great!  Did you cook an outstanding meal? Awesome!  Did you finish a project? High five!
These little successes are worthy of some praise and acknowledgement.  Sure, you may not shout it from the roof tops or make the front page news.  But it might be worth updating your status on Facebook, calling a friend, or at least a mocha dulce latte.
When you start celebrating the little successes, you'll realize that taking that first step out of your comfort zone, even though it feels awful, is a success of its own.  Celebrate it.
Then take the next step toward your goal.  And celebrate it.
Failure might come.  There's no guarantee that it won't.  But sometimes a failure is also something to celebrate.  If you've learned from it.
Failure is simply the opportunity to begin again, this time more intelligently. – Henry Ford
You don't have to be great at everything.  Cut yourself some slack.  You are awesome at some things.  You're a creative genius.  But some tasks are just a drudgery.  That's okay.  We all have our own strengths.
It's great and sometimes necessary to become competent in some non-creative and very mundane areas.  Especially when you're just starting your business or getting your work out there in the cybersphere.  But don't expect to become an expert at everything.  Don't waste your time and creative juices trying to cram something in your head that doesn't fit.  Delegate or find someone who is proficient in that area to walk you through it.
So, as you're taking the next steps in becoming successful, remember these things.
1. Failure isn't reserved just for you.
2. Stepping outside your comfort zone feels a lot like failure but it's really a small success.
3. Celebrate every little accomplish to become better acquainted with success.
4. Failure is a great teacher.  Just think of it as another opportunity to try again.
5. You're a creative genius, but you don't have to be an expert at everything.  Get some help with the mundane stuff.
Are you being too friendly with failure?  It's time to prepare for success.  Big and small.  Tell me how you will try to celebrate your successes in the comments.