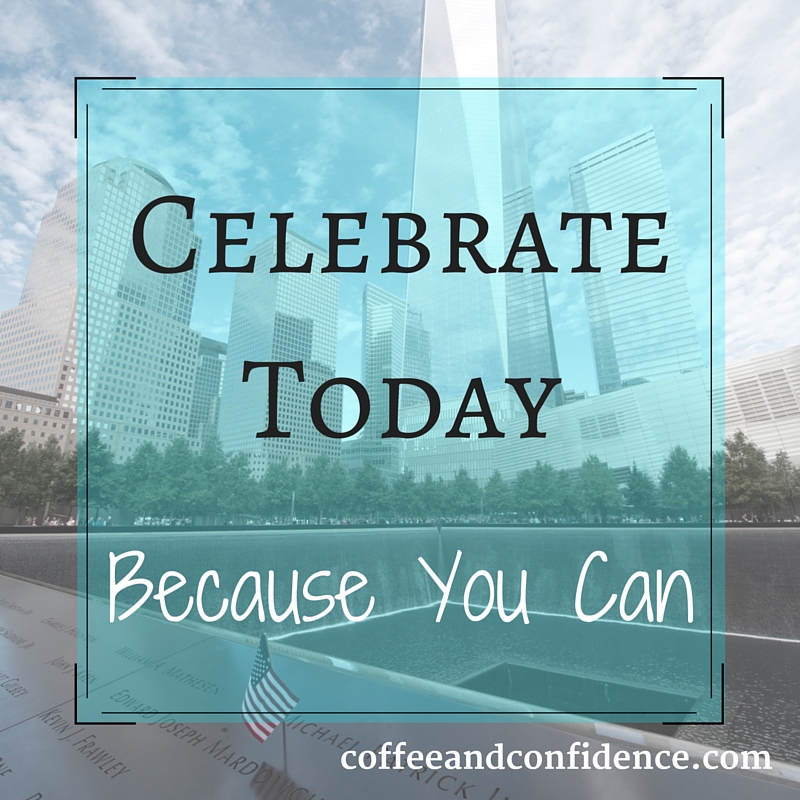 Today is a day to reflect, remember, and celebrate.
Remember
14 years ago, cowards flew planes into the twin towers in New York City, the Pentagon in D.C., and a field in Pennsylvania, killing thousands of people and changing millions of lives forever.
It was a day that caused everyone in the nation to stop and take inventory of their lives.  We rallied together to search, support, and pray.  Most of us will never forget.  We won't forget where we were when we heard the news.  We won't forget the images of desperate jumpers, crumbling towers, and ashen faces.  We won't forget the fear, anger, and confusion.
My children won't remember, though.  I was 6 months pregnant with my oldest child when the towers fell.  I wondered what kind of world I was bringing him into.  If our nation would recover.  What the future would look like.
My kids have no memories of a calamity before their time.  But it's important to them to know the history, that seems like yesterday to some of us.
We teach our children about 9/11.  We have remembrance books, newspaper clippings, and they've seen video clips.  We teach them that lives matter. We must pray for those who hate, help those who hurt, and support those who protect.  It's not the color of the skin that divides, but the condition of the heart.
Reflect
In light of the solemnity of the anniversary of 9/11, this day also marks the 100th post on Coffee & Confidence.  It's a small achievement but a reason to celebrate nonetheless. It will only happen once and never be repeated again.
When you're headed toward a big goal, it's important to celebrate every little step along the way.  It helps you to make landmarks along the way that you can look back and measure how far you've come.
Sometimes the weight of a big goal keeps you bogged down.  You've got your chin down and your shoulder to the wheel, grinding away and working hard.   One foot in front of the other is all you focus on.  Often, you don't realize just how far you've come until you look up and see the starting line getting farther away and the dream getting closer.
Take time regularly to look back and see how far you've come.  Take all the experiences you've had and invest them into your future.
Celebrate
Today is also my husband's birthday.  We will celebrate with some cards, gifts, and going to dinner with family.  Birthdays are great times for celebration.  So is every other day.
I want to appreciate and celebrate the people who make my life so great everyday.  I want to remember all the good times we've had, reflect on the hard times, and celebrate the possibilities ahead.  I want to be thankful for the opportunity to be a part of something bigger than myself.  Like my family, my community, my country.
Every day you have is full of possibilities, wonders, and treasures. Don't miss them.
Make every day a celebration.
A celebration of lives.  A celebration of memories.  A celebration of little victories and milestones.  While you're hustling on your dreams, look up and appreciate what you have and how far you've come.  Take time to be thankful for the opportunities you have and the people you share them with.
Every day you're still breathing is a gift. 
What are you celebrating now?  Are you surprised by how far you've come without realizing it?  I'd love for you to share your little victories in the comments. 
---
Interested in some more encouragement and inspiration? Join my email list and get a letter from me every month!