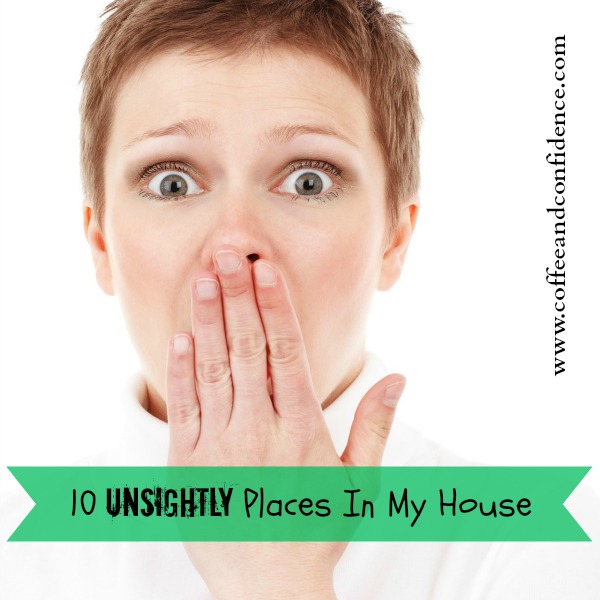 I really wanted to start this post by telling everyone how organized and OCD I am.  I mean, don't I have to have a spotless home to post beautiful pictures on social media sites?  Isn't that a mandatory part of being a blogger?
Then I decided that listing ten embarrassing places in my house is just too much information.  Talk about opening myself up to be judged. No one needs to know.  I could list five places, sympathize with other slackers and vow to be perfect by the end of next week.
Then I thought… Haters gonna hate.  So what.  Judge away.
10 Unsightly Places in my House
1.  My bedroom.  I can't seem to keep things put away.  It's behind closed doors so maybe I don't care as much.  There are too many blankets, papers to be filed, and clothes.  Just too much stuff.  There isn't a place for it all.  I really need to get rid of some stuff in there.
2.  Hallway.  Our house is tiny.  There is one hallway.  It serves too many purposes.  Our coat racks and shoe racks are there.  The microwave.  A tote with our winter gear, hats, mittens, scarves, etc…  A shelf unit with pantry items. An overhead shelf with small appliances and extra paper goods.  My cleaning supplies.  The only thing it's not good for is walking through… hmmm.
3.  Attic.  Who's attic isn't a wreck?  Really?  It tends to be a catch all for us.  If something isn't currently needed or in use, it goes into the attic.  Some of it we find and use as needed, but a lot of it gets shoved to the back and never seen again.  I'm sure there is stuff there that could disappear and we'd never know it.
4.  Garage.  Ugh! It really seems like we clean out the garage every spring and fall.  And every time it fills up again.  We have never parked a car in the garage in the nearly five years we've lived here.
5. The kids' bedrooms.  There are two of them but I'll list them here as one.  My 13 yr old son just doesn't take care of his clothes.  Clean or dirty.  They just hang around.  My 10 year old daughter collects things.  And most of them end up on the floor.  If anyone has any tips on motivating your kids to clean their rooms, PLEASE let me know.  I'm out of ideas.
6.  The screen porch.  This is probably most embarrassing because it's the first impression to my house.  And it's winter right now.  Shovels, patio furniture, returnables, and Goodwill fodder.
7.  The freezer.  It seems like we put things in the freezer, but very little ever comes out of it.  The last few times we emptied the freezer was because someone left the door open and ruined everything inside.  I'm so ashamed.
8.  Basement.  Okay.  So there's probably not much I can do about this.  One wall is field stone and the basement is damp.  When it rains hard we get little streams of water running through to the drain.  Everything down there is up on pallets.  It's not really a pleasant place to be.
9.  Under the couch.  It eats things like pencils, candy wrappers, and socks.  Actually, I'm pretty sure the kids feed it.
10.  Top of bookshelves.  We have a lot of books.  So we have a lot of bookshelves.  The tall ones that have five shelves. It's pretty rare that I think about dusting off the top.  Anything that's up there has a layer of dust and cobwebs.
Yuck! That list makes us sound like slobs.  I really wish I was OCD.  Maybe I will be by the end of next week.  Right.
What areas do you find embarrassing in your house?  What do you wish you were OCD about?  Comment below. 🙂