"Yes" or "No"
The Guide to Better Decisions – A Story
Author – Spencer Johnson, M.D.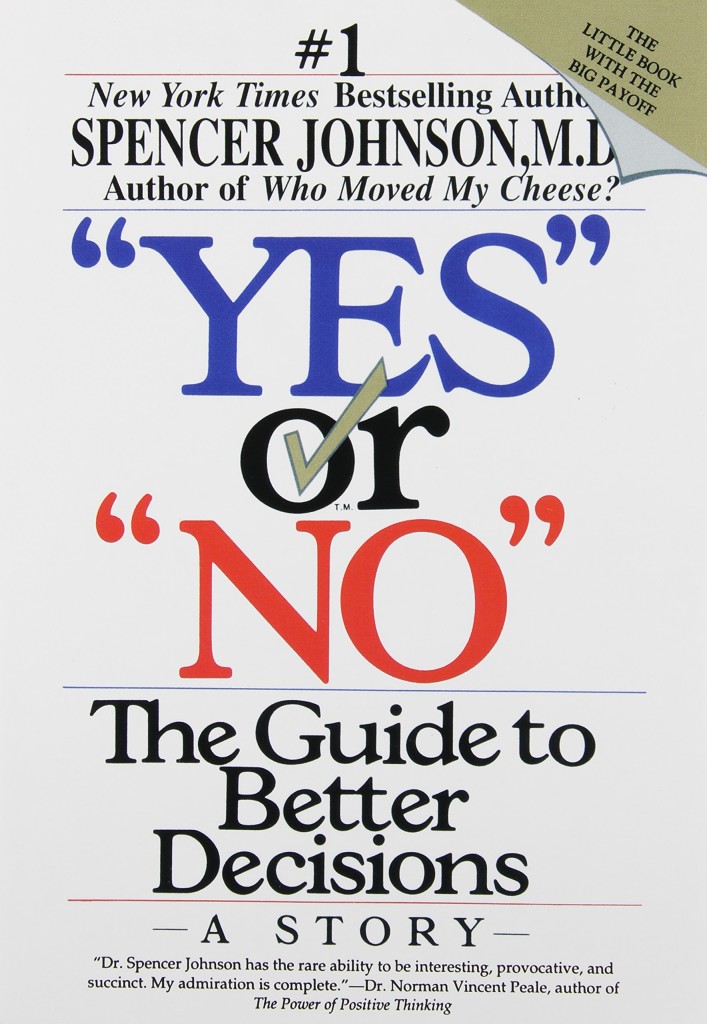 Publisher – Harper Business
Genre – Business/Money
112 Pages
ISBN – 0-88730-631-4
I'm a big fan of Spencer Johnson's book Who Moved My Cheese?  So, when I came across this book, "Yes" or "No," I knew I wanted to give it a try.
Like Who Moved My Cheese?, "Yes" or "No" is told in a story format.  A nameless young man embarks on a hike up a mountain with other experienced business men and women to learn the secret of making better decisions.  He knows he can do better and wants to make the right decisions in his business and personal life, but doesn't feel confident in his ability to come to the right conclusion.
Through the guidance of The Guide and others on the journey, the young man learns a formula, referred to as The Map, for making good decisions.  He takes notes and creates his own map for reference later in life.
The map consists of asking yourself two questions when faced with any difficult decision.  First, you ask yourself a Head question, and then you ask yourself a heart question.  Each question consists of three parts and can be answered simply with a Yes or No.  When  question is answered with a No, it is reevaluated.
The reason for a head question and a heart question is because it takes both to make the best possible decision.  Most people tend to use only one or the other.  I, personally, am a thinker and often neglect my feelings in decision making.  Others I know, make decisions based entirely on feeling and don't take the time to think things through.
Here's a breakdown of the decision-making formula.
The Head question is:
Am I meeting the real need, informing myself of options, and thinking it through?
The first part of the question helps you analyze if you are deciding based on a need or a want.  A real need is a necessity and a want is a wish.  Satisfying the needs first will always propel you in the right direction.
The second part of the question helps you to realize that there are many options and you need to consider all of them.  There are always more options than you initially realize.  If they're not apparent to you, then create options.
The third part of the question prompts you to ask yourself, What then? And then ask What then? again and again to imagine what the final outcome of your decision would look like.  Follow your decision all the way to the best and worst possible scenario.
The Heart question is:
Does my decision show I am honest with myself, trust my intuition, and deserve better?
The first part of the question makes you examine your beliefs.  What illusions do you want to believe instead of admitting the truth based on experience?  Decisions based on illusions never produce the outcomes we expected.
The second part of the question forces you to consider if you are facing your decision with enthusiasm or with fear.  What decision would you make if you weren't afraid?  Is there a peace in the decision you are making?   If you're not quite sure, appeal to a Better Intuition, through prayer.
The final part of the question causes you to admit that even though you think you deserve better, too often you hold yourself back because you don't really believe it.  The thought of just surviving or making it through should be satisfactory is like driving with the breaks on.  What would you do if you really believed you deserved better?
---
The story of "Yes" or "No" lacks any depth and is definitely not as engaging as Who Moved My Cheese?  Yet, the dialog allows for some explanation of ideas as well as some real life examples of good decisions and bad decisions.  Some characters have names and back stories which seem irrelevant to the point, except to possibly suggest the system for making better decisions can be used by anyone anywhere.  There is some repetition in the dialog as well as a lot of laughing for some strange reason.  However, there are quick reviews at the end of each section to help drive the point home if you find yourself skimming over the dialog like I did.
Overall, it was a quick read and definitely had some great insight into making better decisions.  I would recommend "Yes" or "No" to anyone who is struggling with a difficult decision or lacking the confidence to make good decisions.  I suggest taking notes or at least writing down the formula at the end to help you remember the steps for better decision making.
Do you make your decisions with your head or your heart?  What part of this formula helped you realize why some of your decisions don't turn out well?  Join the conversation here.